Air Cadet Canadian Tire $
[B1953 - D. Johnson]
Air Cadet Squadron '100 Laval' has recently started at LJHS and LLHS. Through Air Cadets our young people have a positive place to be with adults who are about them and help them to become tomorrow's leaders while learning skills related to the aerospace industry.
Air Cadets are collecting Canadian Tire $ in order to help purchase sporting equipment for the Squadron. If you would like to donate please drop it off at the main office.
Remembrance Day, Silver Cross Mother, and LLHS
[B2031]
Once again, our school has been singled out nationally. For the past 6 years, what began with the desire to honor one of our own with more than a tree for his service to our country led to the birth of leadership and community involvement in our school.
http://globalnews.ca/news/960255/the-son-of-canadas-silver-cross-mother-inspired-a-sea-change-at-a-laval-high-school/
http://www.cbc.ca/player/News/ID/2417205345/?sort=MostRecent
http://www.reuters.com/article/2013/11/01/idUSnCCN53HyQK+1cb+MKW20131101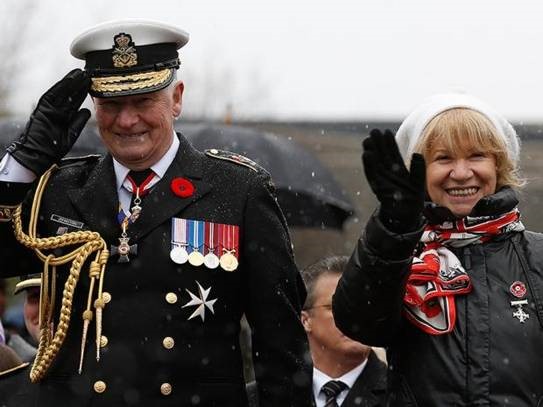 This picture was the moment that Mrs. Karigiannis first spotted LLHS students waving at her.
She nudged the Governor General to signal the presence from LLHS. He followed up with a salute.
Mrs. Karigiannis (Psiharis) Has Been Named the Silver Cross Mother for Canada 2013
This November we remember our fallen and in particular the fallen of our partner Battalion 3PPCLI. We will pause and commit ourselves to better future in memory of Sgt. Chris Karigiannis, Captain Matthew Dawe and those who have been called to go for us.
Mrs. Karigiannis will represent all mothers in Ottawa on November 11 who have lost a son or daughter in service to Canada.
Our students will be joining the Karigiannis family once again in Ottawa with the Royal Canadian Legion and Operation Veteran.

Leadership Camp is this weekend with 3PPCLI and 4R22R. We are very pleased to welcome Sgt Pinard, Sgt Yaschuk, MCpl Vacarro and Cpl Brown home to LLHS!!
111 000 VOLUNTEER HOURS!
[B1926 - D. Johnson]
The Corner Store is NOW OPEN!
[B1925 - D. Johnson]
Support the Learners Without Borders as we work to better our partnered communities in Africa and Costa Rica!
http://www.learnerswithoutborder.com/
3200 Souvenir O., Chomedey, Laval, QC, H7V 1W9 Tel. (450) 688-2911
Principal: Josée Coté
Vice Principal: Helen Kalipolidis